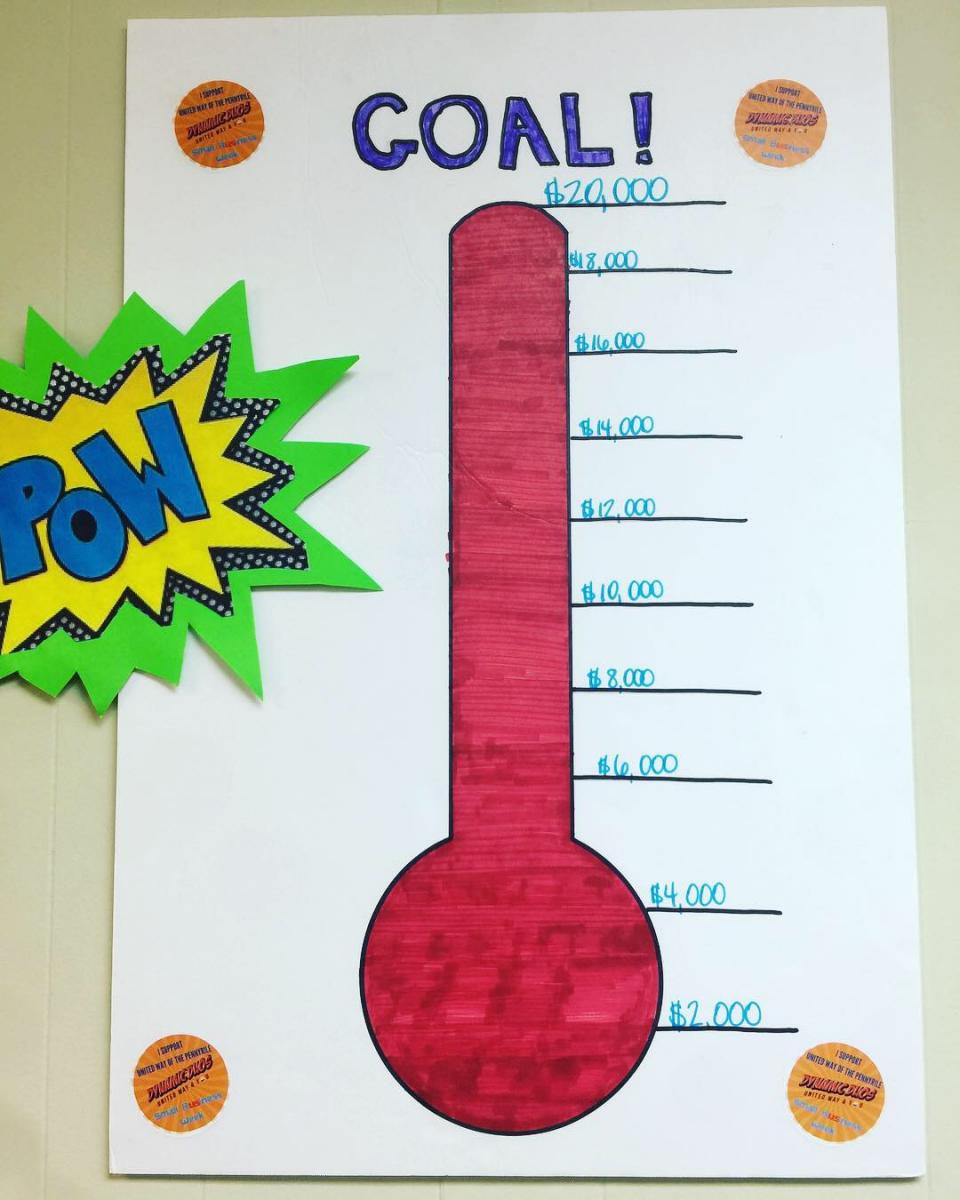 We want to say a huge thank you to the businesses in Christian, Todd, Trigg, and Caldwell counties who stepped up to help us meet our $20,000 goal for Small Business Week. 222 small businesses and owners saw the value of United Way donations last week and we still have pledges coming in the mail.
Even the smallest donation makes a difference in our communities. $5 from every resident in Caldwell, Todd, and Trigg counties would fully fund agency requests and allow additional services to be offered in the counties. $10 from every resident in Christian County would fully fund the agency programs offered in the county.
If you are looking for a place to do business, might we suggest one of our amazing donors!
Christian County
DDS Lawn Care, LLC
ABC Finance
Hosta Haven Treasure Shop
4th & Main Auto Sales
Sign Solutions
Hopkinsville Hearing Center
Premier Styles
Downtown Renaissance
Kentucky Farm Bureau - Gary Keeton
Dr. Jeffery Chapman DMD
Davo's Burgers and Fries
Encore Salon - Victoria Russell
Wiliams Advertising
Christian Way Farms
The Silo
Bolinger Appraisal
West Kentucky Collision
Hearing Services of Kentucky - Dr. Pam Ison-Glover
Shelter Insurance - Scott Leuckel
Med-Transit
The Car Spa
Commonwealth Counseling
Makeupdoctor.com
Bambino's Pizza
Edward Jones - Holly Bivins
Tangy Roots Frozen Yogurt
All That and More Nail Salon
Western KY SHRM
Edward Jones - Robbie Sipes
Kentucky Farm Bureau - Ashtyn Hudson
Davis H. Elliot Company
Steve Underwood, Attorney
Edward Jones - Tyler Jones
Chrissy Dilday - local orange status Younique presenter
Tacos El Papi
Dairy Queen
Main Street Tavern
ITC3
CATS Filters
Books on Main
Giles Farms
Dr. Kalleb Greene
Harbor Insurance
Center of Insurance - Spencer Kilijan
Griffin's Studio
Lulu's Place (Dairy Dip)
Mastercraft's RV Center
Hair Works & More
Dr. Lawrence Long
Trends Hair Salon - Judy Byrd
Trends Hair Salon - Connie Leckman
Trends Hair Salon - Stacy Wycoff
Becker Automated Products, LLC
Atmos Energy
Advanced Home Medical, Inc
Ash Brunson's All Clean
LifeLinc Pain Centers
TalentForce
The Village Restaurant
Pennyrile Family Dentistry
Pennyrile RC&D
W. Lawrence Long MD, PLLC
The Spa
Visions by Debra Harris
The UPS Store
Pieces of Heaven
Sprint Print
West Side Body Shop, LLC
The Bloomery
Karel Blair, Independent Beauty Consultant, Mary Kay
Tuckessee Lawn Care
Michael Venable, State Farm Insurance
Stacee Shelton Fiese, Salon 807
Southern States Hopkinsville Co-Op
PORTAGRACE Manufacturing
Altman Coatings
Kentucky Moving & Storage Services, Inc.
Happy Harvest Farm (John Ausenbaugh)
Burdoc Farms Weddings and Events
Shemwell Home Improvements
Gary Lester, Lester Farms
R. J. Williams (Justin Williams)
Steward Richey Construction, Inc. (J.Kaufman)
Little Caesars
Bluegrass Interiors (Fredia Bryant Smiley)
Car Stop
T & B Trucking, LLC (Steven Fish)
Home Builders Association of Hopkinsville
Smart Home Solutions & Theaters LLC
South Western Kentucky EDC
Atlas Athletic Club
Duboday Enteprises, LLC (Mike Fears)
Hopkinsville Brewing Company
Place 1 Liquors
Sprint Print
The Corner Coffeehouse
Gospel Sounds (Linda Pearson)
Heather's Homemade Ice Cream (Angel Engel)
Hopkinsville Golf and Country Club
The Farmers Daughter (Laura Lester)
Calhoun's Pool, Hearth and Patio
Town and Country Discount Drugs
Skyline Animal Clinic (Pat Doughtery)
Enhance - The Aesthetic & Wellness Co
Free Range Flowers at Martin Farm
Holly Hampton - EXIT One Real Estate Metronet
Randolph-Hale, Inc.
Town & Country Realty
Bikes and Moore (Tim Moore)
Ben S. Wood Corporation, III
Knockum Hill BBQ
Herb Hays Furniture
Jim Moss Electric
Workmans Auto Glass
Advantage Realtors
Dulin Design Group
Summers Optical
Town and Country - Missy Craft
West Ky Realty Team - Debbie Poe
Advantage Realtor - Rachel Duguid Smith
Payne Real Estate - Karen Chiles
HomePlace Mortgage - Teresa Scranton
E-Z  Automotive Services, LLC
Special Occasions Plus Bridal
Music Central
Mr. Mulch / Mohon Tractor Sales & Service
Rooms for Less
Pennyroyal Arts Council, Inc.
Model Cleaners
Arsha's House of Flowers
Hampton Meat Processing, Inc.
Sharon Chilton - Scentsy
Lea Martin - Color Street
Givens Group
Superlawn & Garden
First Dance DJ Service
State Farm Insurance-Tom Bell
Southern Belle Catering
Farm Credit Mid-America
The Southern Belle Catering Co.
Kentucky Western Truck Lines, Inc.
Solly Office Supplies, Inc.
Pioneers', Inc.
Atty Rick Boling
American Concrete
CC Pro Video
Four Seasons Catering
The Peddler
Krystal Kirkman, Kirkman Real Estate
Judy & Bill Todd, Advantage Realtors
The Trophy House
Etta Walker Flegle, Real Estate Southern Style
Bell Engineering
Foster, Soyars & Associates
Myra L. Shultz, Edward Jones
WBW Engineering
Maddux Fuqua Hinton Funeral Home
Agri-Chem
Humes Jewelers
Save More Drugs
Kentucky Hemp Works
Lee White
State Farm - Steve Crisp
Staton's Art & Framing
J. Schrecker Jewelry
Kiarra Hamlin, Weichert Realtors
Janie Ezell, Town & Country Realty
Home Front Real Estate
G & S Embroidery
Hopkinsville Monument Company, Inc.
Upright Technologies
Todd County
Guthrie Main Street
El Torito
Sites Vision Clinic
Something Special
Surplus Sales of Western Kentucky
Guthrie Hardware
Jalapeno Grill
Red Top BBQ
American Café
Be-You-tiful Salon
Golden Threads
The Wooden Needle
Elkton Bank and Trust
Shelter Insurance - Angela Keeling
Coffman Home Décor, LLC
WF Ware Company
Caldwell COunty
Treasures Remembered
Lusby Heating & Air
Newsom's Old Mill Store
Cozy Living Interiors and Boutique
Coleman Auto Parts
Princeton Lumber Company
ABC Finance
Service Plus Parcel & Business Center
Jackson & Schalk, Attorneys at Law
The Tin Roof
Bella Marie Boutique
Musgove Overhead Door Co.
Meadowview Farms & Flowers
Massage Therapy
McEnaney Enterprises, LLC
Wildcat Liquors
Princeton-Caldwell Co Chamber of Commerce
Trigg County
Lake Barkley Insurance
Hancock's Neighborhood Market
Darling & Distressed Boutique
Prickly Peach Boutique & Gifts
Quality Auto Care LLC
Cadiz-Trigg County Industrial Development Authority
Cadiz-Trigg Tourist & Convention Commission
Edward Jones - Andy Hodges
Tailwaggers Pet Salon
Trigg Tropics Tanning & Toning
El Bracero
Goodwin Funeral Home
Broadbent Foods & Gifts
The Shoppe Salon Etc
All Interiors
Barkley Lake Homes Realty, LLC (Ronnie Sadler)
Light's Plumbing & Heating (Sharon Hooks)
HB Quinn, Attorney
Southern Springs Event Center