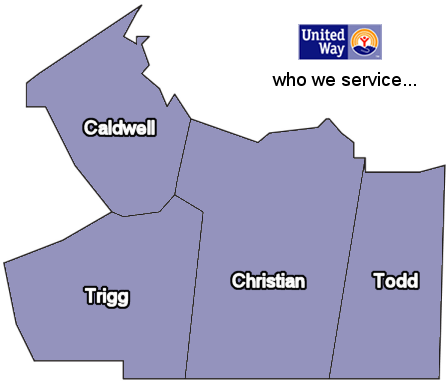 United Way goes beyond temporary fixes to create lasting change that lifts up entire communities around the world. We focus on education, income, and health because these are the building blocks for a good quality of life. The United Way of the Pennyrile partners with 20 agencies in the four-county service area of Caldwell, Christian, Todd, and Trigg.
The stated mission of the United Way of the Pennyrile is "uniting people and resources to improve lives and strengthen communities throughout the Pennyrile." We strive to accomplish that mission through the investment of donor dollars in local health and human service programs. This is the cornerstone of our local United Way. We have adopted a creed that reflects the basic beliefs that define the work of the United Way:
People everywhere are endowed with a desire and capacity to care for others.  A concerned and caring community organization is needed as a vehicle for people to channel their energies and resources voluntarily to that end. The United Way has evolved as a community process, which brings people together to promote individual well being and social good. Therefore, we, the volunteers and professionals of United Way, subscribe to these fundamental precepts as a guide to our daily action:
We believe that the dignity and worth of every individual should be cherished, protected, and preserved;
We believe that we are the stewards of a community process through which all people can share both in shaping a common vision of a caring community and in transforming the vision into a dynamic reality;
We believe that we are strongest when we are most inclusive.  We seek to involve every segment of the community in every aspect of our work.  We believe that out of that involvement will grow understanding, commitment, and the material support we need;
We believe that donors, volunteers, and service providers are the principal stakeholders in our community organizations: Sensitivity to their needs is essential to the success of the process we call the United Way;
We believe that people who give their time or money to the community should have clear, accurate information about how their resources are put to use;
We believe that we must search continuously for new and better ways to meet community needs more fully and economically.  We must anticipate and shape change and give the same consideration to new community needs as we give to familiar ones;
We believe that we must assess the effectiveness of the programs we support against objective standards and that we must encourage all voluntary agencies to give the same consideration to new community needs as we give to familiar ones;
We believe that we must strengthen the social bonds that unite us by exercising our responsibility to one another as a community of caring people.
The United Way's organizational objectives translate the ideals of the creed into goals for the everyday operation of the agency. Those objectives are:
To assess on a continuing basis the need for human service programs in the community, to seek solutions to human service problems and to assist in the prevention of these problems.

To develop financial resources, both governmental and voluntary, needed to meet human service needs.

To deploy United Way financial support to the most urgent current needs of the community, including those supplied by organizations not now receiving United Way funding.

To manage United Way operations effectively and offer assistance to agencies wishing to improve their management skills.

To receive by gift, grant, bequest, or otherwise from any private or public sources, personal or real property to hold, administer, sell, invest, manage, use or distribute in accordance with the directions and intentions of the donor, or in the absence of such directions, as the corporation deems best.