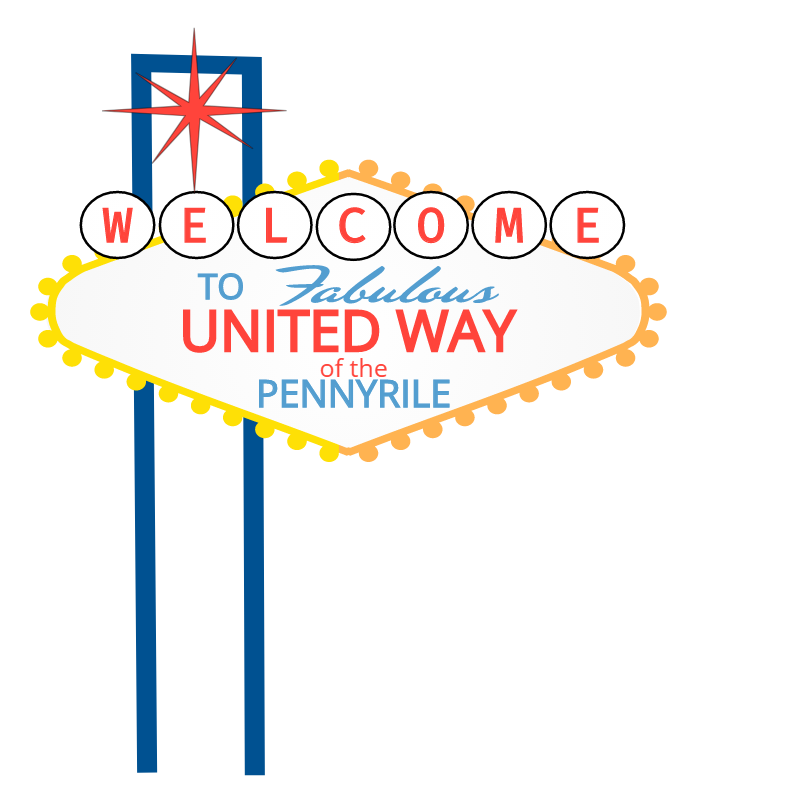 From the Rat Pack to Pen and Teller, Las Vegas has been a mecca for entertainment and the United Way of the Pennyrile, UWP, is bringing that level of excitement to western Kentucky for the 2019-2020 Annual Fundraising Campaign. With the "Welcome to Fabulous United Way of the Pennyrile" sign to light the way and a play on the famous "What Happens in Vegas Stays in Vegas" slogan, businesses, employees, and community members are sure to have a great time over the next several months.
President, Annie Catron said "We have long had the policy of keeping what's raised in each county available to the agencies offering services there so it just makes sense to share that message publicly with our "What's Raised Here Stays Here" tagline."
To bring the city that never sleeps to life in Caldwell, Christian, Todd, and Trigg counties required the right visionaries. UWP Board Member and J. William Flowers recipient, Dustin Gilbert is teaming up with Robin Tabor to head up the fall campaign. Catron said "Our 2019 Campaign Co-chairs are shaking things up and dreaming big." This year each county will have an individual goal to reach and ultimately aid the United Way's 20 partner agencies.
Gilbert is a REALTOR® with West Kentucky Realty, who grew up in Caldwell County and serves on the Trigg County Primary/Intermediate PTA and the SBDM. Tabor has worked at the Princeton-Caldwell County Chamber and is currently the Membership Director for the Christian County Chamber of Commerce. Both are graduates of the Hopkinsville-Christian County Leadership Program, in 2012 and 2019 respectively. Gilbert said "Robin and I are excited to be serving in this capacity and working with our Pennyrile communities to achieve great things for our partner agencies and the work they do every day."
Join United Way September 5 at 7:30am at the Christian County Senior Center for the Campaign Kickoff Breakfast and make sure to pledge your support to the 2019 Campaign. Visit www.pennyrileunitedway.org for more information. Text "Give2UWP" to 313131 to give today.